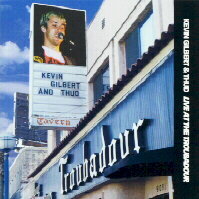 When Kevin Gilbert tragically passed away in 1996, the music world lost a major talent. Most people, if they've heard of him at all, know him as one half of the great Toy Matinee, or part of the infamous Tuesday Night Music Club, the group that backed Sheryl Crow on her debut album. When Crow decided to dump the band that made her career possible and take credit for all that they had done, Gilbert naturally became bitter--both toward Crow and the music industry in general. The best example of this can be heard on The Shaming of the True, the album Gilbert was working on when he died. For a more indirect (but still biting) view of his feelings, check out his first solo album, Thud. The majority of these songs appear on the recently released Live at the Troubadour.
While Gilbert was able to play just about any instrument you'd put in front of him, he confines himself to bass for this show (and quite ably, I might add). For those who are already familiar with the material on Thud, you're in for a pleasant surprise when you hear it performed live. All of the songs carry over to the stage quite well, and in terms of intensity, most actually surpass their studio counterparts. You want highlights? Check out "Tea For One" (one of Gilbert's best songs), or the unreleased "Miss Broadway," both featuring excellent solos by guitarist Russ Parish.
Toy Matinee fans will be thrilled to hear the live version of "The Ballad of Jenny Ledge." In case that wasn't enough, Gilbert and his band turn in a stellar rendition of Led Zeppelin's "Kashmir." It's a bit more straight-ahead than the original, but with more of an emphasis on a basic rock rhythm. Gilbert recorded a studio version of the song for the Zep tribute CD, Encomium, but the track was rejected. A radio station in Los Angeles managed to pick up a tape of the song and the track became a fluke hit. The song was later available on a limited edition single packaged with the Thud CD.
When you hear how great this CD is, it becomes all too apparent just what a great talent Kevin Gilbert was, and what a great loss it is that he's gone. Fortunately for his fans, the Gilbert estate has begun authorizing posthumous releases of the material he had in the vaults (by rachael). The first disc was a compilation of the two Giraffe discs (Gilbert's first band). Live at the Troubadour is the second release, and an extremely limited edition of The Shaming of the True was the third (Editor's note: this CD is currently sold out, however a 'non-limited' version is promised by summer, along with a live Toy Matinee CD).
Live at the Troubadour is currently available via the Kevin Gilbert website (www.kevingilbert.com).