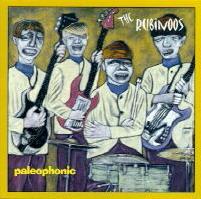 It's been entirely too long since we last heard anything new from The Rubinoos. For those who may have missed out on the master popsters the last time around, the band can best be described as a combination of The Raspberries, the pop side of Todd Rundgren's Utopia, and The Knack, with a tinge of surf thrown in. Originally formed in 1973, the band--Jon Rubin (vocals, guitar), Tommy Dunbar (guitar, keyboards, vocals), Al Chan (bass, vocals) and Donn Spindt (drums and vocals)--has an undeniable sense of genuineness about them. You can tell from the moment you hit the play button on your CD player that these guys are the real deal and not a bunch of wannabes.
The group's signature power pop sound is displayed for all to hear on tracks like "Amnesia" (which features stellar drumming from Tos Panos), the country-ish "You Don't Know Her," and "No More Where She Came From" (with a keyboard solo from Kevin Gilbert, who also produced, mixed and engineered the album). One of the best tunes on Paleophonic is "Can I"--2:26 of pure power. The album isn't just a bunch of power pop songs though. "So Much For Fairytales" is a drowsy "Wicked Game"-like ballad, and "Life in the Slow Lane" is about as retro as you can get (complete with vinyl surface noise).
"Gone to Seed" seems a bit out of place here, but it's a cool tune nonetheless. Kevin Gilbert fans will recognize the phone message in the song from one of his last side projects, Kaviar. The biggest surprise (and undoubtedly one of the coolest tracks) on the disc was "Surf Trek"--a surf version of the Star Trek theme song. The acapella section in the middle of the song really gives the Rubes a chance to show off vocally. "Surf Trek" was originally the last song on the CD. Now that it's been reissued, there are two bonus tracks--"Independence Day" and a cover of The Raspberries' "Cruisin' Music." Neither track is essential (the album was great to begin with), but I'm never one to argue about bonus tracks!
Even if this isn't normally your type of music, you should check out this CD. The songs possess a real sense of authenticity, while retaining the essential element of fun. You never get the impression that they're just going through the motions. Want to hear some energetic power pop played the way it should be? Check out Paleophonic.