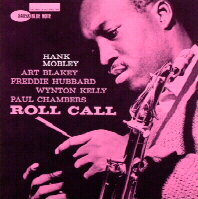 For this review, I have the luxury of being able to compare several different formats of this album--vinyl, CD, and the new D.A.D. Since their inception, Classic Records has done an outstanding job with their vinyl releases, and Roll Call is no exception. Bernie Grundman's mastering is superb, blowing away all the competition. It has that warm feeling that you only get from vinyl. CDs just can't cut it. Now audiophiles are singing the praises of D.A.D. The time has come to see just how good it really is.
To these ears, it's a pretty tough call. Both formats had exceptional sound quality, albeit at different times. On the title track and "The Breakdown," Art Blakey's drum solos sounded noticeably better on vinyl. The dynamic range was more pronounced, and the drums had a cleaner sound to them. The same solos on the D.A.D. sounded like the master tape was oversaturated. "My Groove Your Move" sounds great in both formats. The channel separation is excellent and Wynton Kelly's piano sounds so clear, you'll swear he's playing right in front of you.
"Take Your Pick" is a playful, swinging blues number; and unlike previous versions of the album, Paul Chambers really stands out on the bass. You hear and feel every note. One of the biggest highlights on Roll Call in either format is hearing Kelly, Chambers and Blakey by themselves, as on "A Baptist Beat." The vinyl was slightly warmer here, although the D.A.D. was definitely no slouch either. While most people associate Mobley with bop, "The More I See You" demonstrates his romantic side. The sparse arrangement on this piece is where the D.A.D. really shines. All of the solos are played beautifully--there are no unnecessary notes at all.
Like most of his Blue Note material, Roll Call is an excellent jazz date. Aside from the minor discrepancies, you can't go wrong with this album in either format. Whichever you choose, this record excels in terms of sonic detail, the feeling of 'being there,' and is highly recommended to all jazz fans and audiophiles alike.