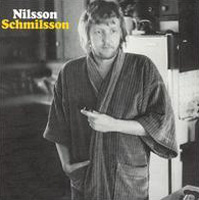 "...one of the top 100 albums of all time..." - Blender magazine
Once in a great while, an album comes along that can truly be described as one of the quintessential pop albums. Newly remastered and reissued, Nilsson Schmilsson is one of those albums. While it doesn't contain all of the bonus tracks found on the recent Canadian issue, the new US version sounds great. The songs ("Without You," "Coconut," "Jump into the Fire," "The Moonbeam Song" and all the others) speak for themselves. The original artwork has been retained, and the overall package has been spruced up with 6 bonus tracks, loads of rare photos and new liner notes.
For those who already own a copy (or copies) of the album, the draw will be the bonus tracks. Unfortunately, after hearing most of them, it's fairly obvious why they were left off in the first place. "Si No Estas Tu" (the Spanish version of "Without You") is nice as a novelty item, but it just doesn't work. Harry's vocal and phrasing aren't up to par, and he actually goes back to singing the second chorus in English. Demo versions of "The Moonbeam Song" and "Gotta Get Up" are interesting, as are the 'hidden' radio spots at the end of the CD. The icing on the cake for longtime fans of the album would have been to include some of the material from the quad mix (all of the songs are noticeably different).
All said, Nilsson Schmilsson remains one of the greatest pop albums ever recorded--with or without the bonus tracks.