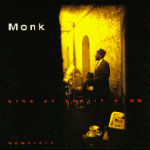 The folks at Legacy have been coming up with some real gems lately. They just launched their 'Live and Legendary' jazz series, featuring titles from Miles Davis, Dexter Gordon, and Thelonious Monk. Live at the It Club Complete captures Monk in his prime during his rare West Coast appearances at The "It" Club in Los Angeles. The new double CD features eleven tracks restored to their original lengths, and three that are previously unreleased. For those of you who keep track of this sort of thing, that adds up to twice as much music as the original double LP.
During these performances, Monk was featured with his working quartet with Charlie Rouse on tenor sax, Larry Gales on bass, and Ben Riley on drums. Although the title says 'complete,' there is actually one song missing. "Sweet and Lovely" was performed during the shows, but omitted from the CD due to serious flaws in the recording. The only other problem is a minor dropout in the right channel of "Straight, No Chaser." Still, we're left with over two and a half-hours of vintage Monk; and thanks to the 20-bit digital remastering, it sounds better than ever.
I can't say enough good things about this disc. Highlights include spirited renditions of such Monk classics as "Blue Monk," "Well, You Needn't" (featuring a great bass solo by Gales), a faster than usual "'Round Midnight," "Bemsha Swing" (with 2 false starts), and a version of "Ba-Lue Bolivar Ba-Lues-Are" that just cooks. Live at the It Club Complete is a great disc for fans and newbies alike. There's something here for everyone.