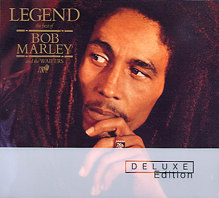 Ask someone to name a reggae artist, and the first name that comes to mind is always Bob Marley. The Rasta man's greatest hits collection, Legend, is the best-selling reggae album of all time, certified 10 times platinum. To many, this compilation is the reggae album--and the Marley album--for even casual fans. Over the past few months, the folks at Universal have been remastering Marley's classic material and reissuing it with loads of bonus material. Well, they've just done it again.
Now Legend is bigger and better than ever, with almost 2 ½ hours of music. The first disc, "Legend Remastered" features the 14 tracks from the original album, plus two the additional cuts that appeared on the UK cassette. But the real jewels are found on disc two, "The Legend Remixes," which contains 13 remixes, most of which have never appeared anywhere other than the original 12" singles. One of the best, and of particular interest for collectors, is the previously unreleased remix of "Lively Up Yourself."
The new deluxe edition of Legend includes the original artwork, photos and liner notes, plus a whole lot more. Whether you're a long time Marley fan, or just someone looking for some good reggae, this compilation is an essential part of any collection. The legend lives on.
TRACK LIST:
Disc One: "Legend Remastered" - Is This Love * No Woman No Cry (live) * Could You Be Loved * Three Little Birds * Buffalo Soldier * Get Up Stand Up * Stir It Up * Easy Skanking * One Love/People Get Ready * I Shot The Sheriff * Waiting In Vain * Redemption Song * Satisfy My Soul * Exodus * Jamming * Punky Reggae Party
Disc Two: "The Legend Remixes" - One Love / People Get Ready (extended version) * Waiting In Vain (Julian Mendelsohn mix) * Jamming (Paul "Groucho" Smykle mix) * Three Little Birds / Three Little Birds (dub version) * Could You Be Loved * No Woman No Cry * Coming In From The Cold * Buffalo Soldier * Jamming (Eric "E.T." Thorngren mix) * Waiting In Vain (Eric "E.T." Thorngren mix) * Exodus * Lively Up Yourself * One Love / People Get Ready (dub version)