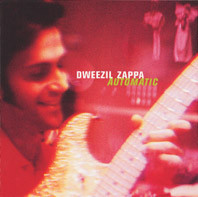 It's been 10 years since the last Dweezil CD, Confessions. This time out, Zappa covers a wide variety of musical genres, ranging from metal to surf to acoustic to classical--even a Christmas tune. The entire album is instrumental, save for "You're a Mean One, Mr. Grinch" (with Dweezil's brother Ahmet on lead vocals) and the short attempt at humor, "Dick Cinnamon's Office."
The CD starts with an impressive reworking of "F.W.A.K." from Confessions called "Fwakstension." "Automatic" rocks hard and features Blues Saraceno on guitar. It would've been nice to hear more interplay between the two guitarists, but it's still a good cut. The first surprise on the CD is the Dweezil's great cover of the surf classic, "Hawaii Five-O." It starts off true to the original, then Zappa spices it up towards the end. "You're a Mean One Mr. Grinch" is unlike any version you've ever heard--rocking out, with a blazing solo at the end.
Two of the tracks on Automatic--"Therapy" and "Shnook" would've been right at home on an album by Frank (that's Dweezil's dad, for the truly clueless out there). "Secret Hedges" is a cool tribute to one of Dweezil's guitar heroes, Michael Hedges. For the classical fans, the CD contains a medley of "Habanera" and "Les Toreadors" from Bizet's Carmen. "Dick Cinnamon's Office" features Lisa Loeb as the 'highly efficient secretary' taking Dweezil's calls. "Hold please…" Wrapping up the CD is a nine-minute rock/metal excursion with a really cool groove called "Purple Guitar."
The material on Automatic clearly shows imagination and has a real sense of spontaneity about it. The only bad thing is that's it's too short. Hopefully we won't have to wait ten years for the next album.