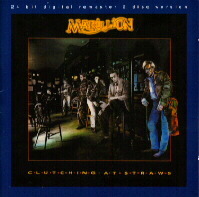 When Marillion first burst onto the American music scene in 1983, most people wrote them off as little more than a Genesis ripoff. They still don't have the fan base here in the US that they do outside this country, but hopefully that will all change with the reissue of their back catalog. All of the new CDs feature expanded booklets with new liner notes and photos, and they've all received the 24-bit remastering treatment for superior sound quality. On top of all that, each title comes with a bonus disc of outtakes, rarities, etc to sweeten the deal even more.
For many fans of the band, the band wasn't the same when lead vocalist & lyricist Derek Dick (better known as Fish) left the group in 1987, shortly after the Clutching at Straws tour. To these ears, Clutching was the pinnacle of their career. Although Marillion continued on after Fish's departure with new vocalist Steve Hogarth, they just weren't the same. The heart and soul of the band left with Fish. With Hogarth in the band, the music took on a more mainstream (almost Journey-like) sound.
Clutching at Straws has it all--great music and gripping, impassioned lyrics to match. From the quiet intro of "Hotel Hobbies" to "The Last Straw" and everything in between, this is an amazing piece of music. Marillion was always big on alternate versions, rarities, and this album was no different. Case in point: there are 12 additional tracks on the bonus disc (nine are unreleased), and that doesn't include everything that they recorded during these sessions. For one, the remix for "Warm Wet Circles" is missing. Instead, you get a special web link that whisks you away to a hidden instrumental track (which you can only hear on the web)--the rock 'n' roll version of "Warm Wet Circles."
This CD was delayed due to mastering problems, but the wait was well worth it. All of the songs have dramatically better sound now--even on a cheap pair of speakers. The original CD never sounded bad, but the new one will blow you away. Even if you already own a copy of Clutching at Straws, the superior sound quality, expanded booklet and bonus tracks make this a must-have disc.